TWISTED TALES (STORY MAKING)
RULES:
-10 words will be provided to the participants.
-Participants may choose any 6.
-Entire story must be centered around those 6 words as the key characters/objects.
-The same words will be given in Hindi & Marathi.
-Paper will be provided.
-Writing material should be brought by the participants. CONTACT:
-Time Limit: 1 Hour. DHANVI MESVANI
-Entry Fees: Rs.80/- CELL- +918422999448
ADVAIT SATELKAR
CELL- +919022870412
Powered by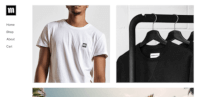 Create your own unique website with customizable templates.